A recent study highlights the most promising areas along Washington, Oregon and California coasts to harvest wave energy
RICHLAND, Wash.—Washington and Oregon coastlines are home not only to sea stacks and vistas, they also hold the most promising areas to pull power from West Coast waves, according to a recent study published in the journal Energy and led by researchers at the U.S. Department of Energy's Pacific Northwest National Laboratory.
The study, spearheaded by physical oceanographer Zhaoqing Yang, chief scientist at PNNL's Marine and Coastal Research Laboratory in Sequim, Wash., assesses wave energy as a resource and identifies the Evergreen State and Oregon as holding the greatest amount of extractable, nearshore wave energy. Offshore geological features concentrate waves into "energy hotspots," some of which Yang's group identified, that highlight regions where stakeholders may look to develop the infrastructure needed to harness the energy.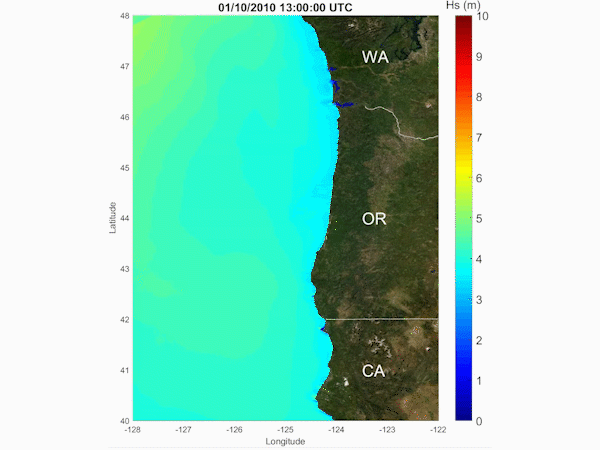 Yang and his team characterized waves by building a model that incorporates 32 years of climate data, allowing the researchers to reconstruct past waves and estimate their power output potential. Washington and Oregon came out roughly equal in terms of energy yield, while California's coastline orientation and offshore islands led to fewer hotspots. Northern California—third in output—did produce significant power, while Southern California showed the least potential among the studied regions.
Though previous studies have explored wave energy, past estimates tend to focus on either smaller areas or datasets that span only a few years. Yang's study, in addition to considering more than three decades of wave data, explores well over 1,000 miles of coastline.
"No other study has looked at this on such a large scale or in such fine resolution," said Yang, highlighting the paper's breadth and new detail. "This allows you to pinpoint very specific locations that are suitable for wave energy harvesting…"
URL to original posting and full article here…
https://www.pnnl.gov/news-media/researchers-identify-which-west-coast-regions-hold-greatest-wave-energy-potential