Kids v climate change – inside the 15 February edition of the Guardian Weekly
This week in the Guardian's international news weekly, we look at how one Swedish teenager inspired kids around the world to skip school and fight for the planet.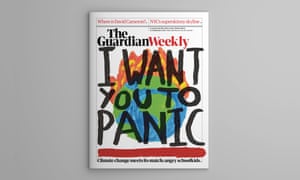 "In last week's issue we ran The Coming Fire, David Wallace-Wells's stirring essay about his experiences reporting on climate change. It ended with a call for some hope and optimism about a generation of children being raised with an awareness of the impending climate catastrophe. Wallace-Wells may well have been thinking of Greta Thunberg.
"The problem for any of us when thinking about the vast scale of the climate crisis is "what difference can I make?" That didn't seem to be a consideration for the Swedish teenager. Last August, as we reported in the Guardian Weekly, Greta refused to go to school and sat outside the Swedish parliament demanding her government take more urgent action on the climate. Within weeks, the School Strikes For Climate spread, from a handful of teens in The Hague to tens of thousands in Australia. This week, thousands of British and Swedish teens were expected to walk out of their schools. Then, on 15 March, a global, coordinated strike will take place across the world. In this week's big story we look at this heartening, angry reaction to a world set on fire by adults. Then, on page 48, the novelist John Lanchester laments the legacy of those happy to bequeath a burning earth. We also have a handful of other "climate fightback" stories throughout the magazine that ought to inspire as much hope as fear.
This Valentine's Day …
… show your love for independent journalism. Commitment can be hard. We get it. But at the Guardian we feel that straightforward commitment to truth and openness is more important than ever. That's why we promise to remain true, to cut through the fake news, and always stay faithful to our readers' needs. We also know you can be committed without giving up your independence, which is why we think you'll appreciate our unique ownership structure – free from bias, free from censorship, and dedicated to always meeting the highest standards. All we ask is that you support us, in whatever way you can, with whatever you have to give. If you love our work, and value the power of independent journalism, please support the Guardian. A little love goes a long way.
Support The Guardian from as little as $1 – and it only takes a minute. Thank you.
---